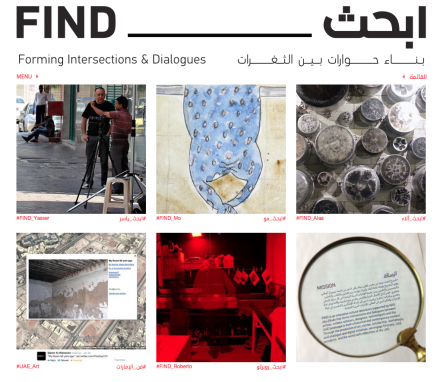 My world has been so busy that, somewhat typically, I haven't updated anything for months. Last December, we finally went public with the NYUAD research project for which I've been serving as the Design Director/Senior Producer. And this Wednesday, March 12, we're going to launch Issue 2 of our online journal. Issue 2 will contain some amazing projects with some fantastic collaborators, so I want to make sure to at least give this all some acknowledgement. In particular, we'll be rolling out photographer Roberto Lopardo's project (an image map of Abu Dhabi shot over 24 hours, walking, using approx. 20 second videos for each minute) from midnite GST on the 12th to midnite GST on the 13th. I've been watching the test runs, brilliantly implemented in collaboration with my team over at Solertium, and I can't begin to explain how beautiful a project (and time-based event) this has turned out to be.
(Enter the project, and you'll be introduced to Abu Dhabi in real-time; during the launch, you can only access videos that reach up to the current time in Abu Dhabi, and the rest roll out a minute at a time for the rest of the launch span. After the launch, you'll be able to access the full grid.)
I owe updates on *so* many things that I've been working on, but wanted to at least give an acknowledgement to this old piece of information that's both exciting in general and, particularly so, this week.