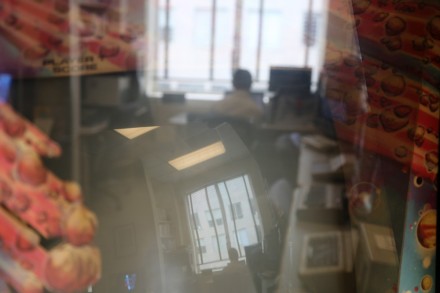 The Trope Tank, Professor Nick Montfort's lab at MIT, is unequivocally one of my favorite places in the world. I fell in love with it almost immediately upon first entering the doors a few years ago, and I've become more enamored with each visit. The 43 pages of this zine barely do justice to the objects stored within the space, and they only give a tiny glimpse of the fascinating work that occurs within the Tank's walls.
This zine is the second of a series of photographic portraits of games preservation archives; the first was Left Cartridge about the Learning Games Initiative in Tucson, Arizona. The series is part of a larger documentary project that will present in-depth portraits of each archive, display a pan-archive view, and manifest in a different form.
As with No Loitering, the unnamed.pdf zines, Left Cartridge, and stabilized and sealed, download and view Restore [Return] Shift on screen (3MB) or download, print (duplex or organize pages back-to-back, use the screen version as your guide), and bind your own (11MB). The DIY file is sized to print on 8.5×11″ paper. Please note that the .pdf typically looks better downloaded and viewed on your device rather than through Dropbox on a browser; also (for DIY printing) choose Actual Size rather than Fit to Page for your print option, or the gutters and margins will misalign.